Isabella Bordoni , poet, actress & perfomer, playwriter and director she begins her theatrical career in the middle of the 80's. To bring the text out of the written page was from the very beginning one of her main thoughts. The complexity of her work is very much related to this statement. During this period Isabella Bordoni fell in with the opera of Marina Cvetaeva. Later, the study of such writers and philosophers as E. Jabes, J. Derrida, E. Levinas, M. Blanchot, C. Lispector, drove her to research the "condition" of the word.

The word reveals itself as lyric song and like the element of time. At that time she started the on-going project "Orality of the Poetry". Isabella Bordoni works in close cooperation with composer / director Roberto Paci Dalo'. In 1985 they founded the Giardini Pensili theatre company. The heart of their common work is the interest for language structures and the relationship between word and sound. Giardini Pensili has been heralded by the international critic as one of the most interesting European companies.

In 1987 she was invited as artist-in-residence at the Djerassi Foundation, San Francisco, where she presented the theatre play Cave di pietra. The same year her production Corrispondenze Naturali was awarded at the Premio Narni Opera Prima.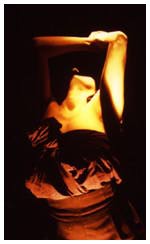 She has published poems and plays, one of the most remarkable is Giardini Pensili Il libro dei paesaggi , Exit Edizioni 1987. In 1989 she wrote the hoerspiel Segnali radio sulla costa atlantica, produced by theORF / Kunstradio, Vienna, and Quattro canti sulla circolarita' del tempo, produced by the RAI Radiouno / Audiobox, Rome.
In the same year she presented Temporale, a theatre piece dedicated to the city of Jerusalem and to the Dead Sea Scrolls. In 1990 she presented several sections of the project Paesaggio con figure (Landscape with Figures): the Vision of Time and Landscape in Italy and abroad. Isabella Bordoni has presented her poetry at Rome's prestigious international centre Eugenio Montale. In 1991 she wrote and staged Terrae Motvs, a theatrical work inspired by the Madonna del Parto by Piero della Francesca. With the pieces Niemandsland - theatre play / hoerspiel / video installation -and Terra di nessuno - theatre play- for the first time she worked on other authors' texts (Agamben, Sambati, Benjamin) in parallel with her own. del Disorientamento 1992-1995(of Disorientation) is the on-going project about no-man's-lands created together with Roberto Paci Dalo', photographer Guido Guidi, and philosopher Giorgio Agamben. Her work is also caracterized by the use of digital technology, telecommunication systems, radiophonic media, interactive computer systems which she uses live in performance in order to expand language borders.
In 1994 her telematic simultaneous TV and radio live performance Realtime was awarded at Preis Ars Electronica in Linz. Since 1985 she presented her work all over Europe, U.S.A., Middle East invited by the main theatre houses, museums, festivals, presenting organizations. Collaborations include : David Moss, Stefano Scodanibbio, Akio Suzuki, Jon Rose, E Zezi, Daniele Sepe... In February 1994 she premiered in Berlin the opera Auroras coproduced by Hebbel-Theater Berlin, Inventionen '94, Giardini Pensili. The live-hoerspiel Many Many Voices was premiered on January 29th, 1995, from the Haus der Kulturen der Welt Berlin, and broadcasted live in Brandeburg and Finland. Isabella Bordoni was born in Rimini, Italy, 1962.