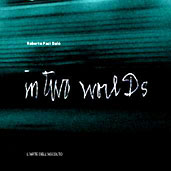 Roberto Paci Dalò
In Two Worlds
01. Elie
02. Code
03. Files
04. Remix
05. Tallinn

All compositions by Roberto Paci Dalò. 2002

handwritten text a mesostic by John Cage dedicated to Roberto Paci Dalò
design Lora Casadei
thanks Vincent Delvaux, Andrea Felli, Philippe Franck, Gabriele Frasca, Lab[au], Andres Loo, Maks Surin, Fujui Wang

L'Arte dell'Ascolto
a project of Giardini Pensili

produced by Roberto Paci Dalò

© 2004 Roberto Paci Dalò
(p) 2004 L'Arte dell'Ascolto
LADA001
< home
............
Italian artist Roberto Paci Dalò aka DALO is a pioneer in the use of digital technologies in art building bridges between pop and academic cultures. Being supported by such artists as John Cage, Bob Ashley and Giya Kancheli, DALO is committed to working with cutting edge practitioners and has collaborated with musicians Olga Neuwirth and Kronos Quartet, writers Giorgio Agamben and Predrag Matvejevic', artists Maurizio Cattelan and Richard Long, among many others.

His live performances constantly seek to break new ground: in 1985 he founded his own performing arts ensemble and media lab Giardini Pensili and with this group he presented a rich body of music and theatre performances, installations, sound /video installations, radio & net projects, films. In 1993 he created the Publiphono project using the public adress system of the Rimini beach (with this technology he commissioned new works to artists like Scanner and Huber/Tosca), in 1997 he performed Trance Bakxai, a rave size event involving thousands of participants, in 2001 he used an entire modernist building in Rome to stage a performance after Euripides, in 1993 he create a radio work involving Palestinian and Israeli poets together for the first time from Kol Israel radio studios. And now is working with leading composer Olga Neuwirth on a new breaking border project for Wien Modern... more
..........
In Two Worlds
backstage
The title comes from a mesostic John Cage wrote after concert I gave in New York City at the Experimental Intermedia Foundation
A great venue - directed by composer Phill Niblock - which is still keeping the "loft" atmosphere of the 60's. John came to the concert and few days later we met in his flat. At that occasion he gave me this mesostic which obviously is one of the most important (very few) things I own!

Elie is dedicated to cellist/composer/conductor Jean-Paul Dessy's son. I created the piece in my former studio in Rome in may 2002.

Code, Files, Remix originally are one single composition commissioned by the Netdays Festival in Brussels 2002. Philippe Franck and Vincent Delvaux / Transcultures proposed to me the making of a sound piece as a collaborative project together with media architects Lab[au] (laboratory for architecture and urbanism) in order to produced an installation in the public space: RE:MAP

Instead of dealing solely with my own usual materials, I thought that was probably more interesting to think about other musicians presence at the festival. So I sampled sounds from works by all of them and with this database I created the piece.
This installation work has been presented in Brussels next to the Brigittines, a former beautiful little church converted now into a performing arts space.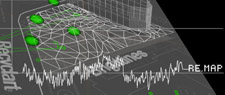 Tallinn has been recorded live in concert in Tallinn (Estonia) in 2002. I've been invited to perform there by a friend: Maksim Surin cult figure of the Estonian scene.
I love Estonia and Nordic countries in general and I particularly enjoyed that event. That's why I wanted to include e little excerpt in this first album.

All these pieces have a lot to do with my interested in cities and urban sonic & visual explorations. Kind of environmental pieces dealing with city life.

I took the photographs in the CD during a painful and endless night trip by train from Torino to Rome.

Everything has been mixed and postproduced at the Giardini Pensili Studio between Rome and the Rimini hills.