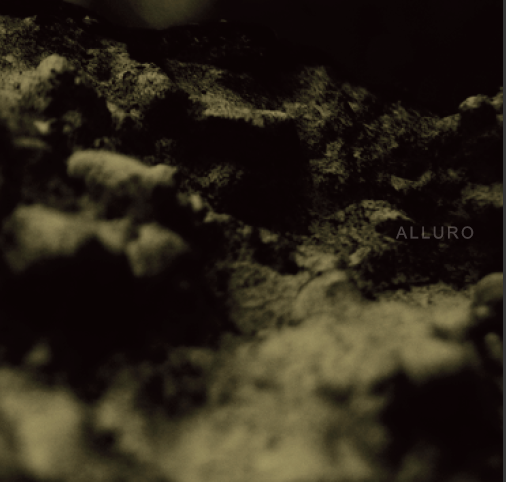 The first album of the instrumental trio Alluro has been released for 21* Records.
A challenging double cd containing the best metarial produced by this freshly formed band. Alluro is a project devoted to the music of the underground.
Three low-pitched instruments going down into depths of sound. An exploration going into grottos, caves, underworlds, reached through noise and electronic elaboration, while preserving the instruments original sound and its limitless possibilities.
A metallurgic trance beat created by driving rythms, enclosed into regular circles. A sandy amphitheatre where catacombal sounds vanish into the chill poignancy of the minimal electronics. Sounds of uncovered wires, of dirty mechanics digging to hide from an innatural light.
Alluro, a metal shining in the dark, turning lights into shadows. You can find yourself in the underground, floating, in an alien territory made of physical materials and sounds of the known world, just chemically altered.

Esce per 21st Records il disco debutto del trio strumentale Alluro. Un impegnativo doppio cd che contiene il meglio della produzione di questo nuovissimo gruppo. Alluro è un progetto dedicato alle musiche del sottosuolo. Tre strumenti gravi che discendono nelle profondità del suono. Un'esplorazione di grotte, caverne, sotterranei attraverso noise ed elaborazione elettronica conservando al centro del discorso il suono originale degli strumenti e le sue infinite possibilità.
Trance metallurgica scandita da ritmicità calzanti racchiuse in cerchi regolari. Un anfiteatro sabbioso in cui antifone catacombali svaniscono nell'intensità algida di elettroniche minimali. Rumori di fili scoperti, di meccaniche sporche che scavano come per ripararsi da una luce divenuta innaturale. Alluro, metallo riflettente anche nell'oscurità che traspone in negativo luci e ombre. E così anche sottoterra ci si ritrova a galleggiare, in un territorio alieno ma costituito dai materiali fisici e sonori del mondo che conosciamo, solo modificato chimicamente.

Roberto Paci Dalò, composer, clarinetist, live electronics. Director of Giardini Pensili. Presentations in Europe, America, Russia, Middle East and in the most important festivals. He has collaborated with Kronos Quartet, Fred Frith, David Moss, Scanner, Philip Jeck, Han Bennink, Terry Riley, Olga Neuwirth, Alvin Curran, a.o. His work has been supported by John Cage and Aleksandr Sokurov.

Luca Pastore, saxophonist with the impro/noise band Revolutionary Order Movement and 100 Skins. He's collaborating with many musicians of the noise electronic scene like Yann Keller, Dj Bally and Sonig Belligeranza, Biomass. He'd created, together with double bass player Alessandro Quintavalle, the Neapolitan Noise Orchestra, an impro noise orchestra rearranging the traditional neapolitan music.

Alessandro Quintavalle is a double bass player, keyboard player and producer from Naples. He plays in the impro noise bands Revolutionary Order Movement, Vement, 100SKINS, and in the Radical Players with Climnoizer. He had collaborated with artists from the italian scene like Meg, 99 Posse, Marco Messina, Mario Conte, Iovine, Frame ed Epo.



Alluro

Caratteristiche
Elemento chimico di numero atomico 104. Il suo simbolo è Ao. È un metallo alcalino terroso, soffice, di colore bianco argenteo e moderatamente velenoso. Brucia con fiamma blu-verde e reagisce violentemente a contatto con il vapore acqueo.In natura si trova quasi esclusivamente in combinazione con altri metalli, in composti come la Lirite Ao(NO3)2. Quest'ultima si presenta di colore grigio-azzurro e se riscaldata emana un'odore vagamente simile a quello della banana matura.
È stato usato in passato come deterrente per le talpe: abbondantemente sparso sui campi coltivati teneva lontani i piccoli mammiferi nel sottosuolo ma causava una colorazione celeste del raccolto (tuberi e radici).
L'Alluro presenta 12 isotopi molto instabili.

Proprietà atomiche
Peso atomico 62.83 amu
Raggio atomico (calc.) 215,1 pm
Raggio covalente nessun dato
Raggio di van der Waals nessun dato
Configurazione elettronica [Kr]5s2
elettroni (e-) per livello energetico 2, 8, 18, 8, 2
Stati di ossidazione 2 (base forte)
Struttura cristallina esagonale
Proprietà fisiche
Stato a temperatura ambiente solido (paramagnetico)
Punto di fusione 1020 K
Punto di ebollizione 1655 K
Volume molare 33,94*10-6 m3/mol
Calore di evaporazione 144 kJ/mol
Calore di fusione 8,3 kJ/mol
Tensione di vapore 246 Pa a 1042 K
Velocita' del suono nessun dato
Varie
Elettronegativita' 0,95 (scala di Pauling)
Calore specifico 200 J/(kg*K)
Conducibilita' elettrica 7,62 106/(m?ohm)
Conducibilita' termica 35,3 W/(m*K)
Energia di prima ionizzazione 549,5 kJ/mol
Energia di seconda ionizzazione 1064,2 kJ/mol
Energia di terza ionizzazione 4138 kJ/mol
ALLURO
acoustical chemistry in the sound's subterraneans
CD 1
1. allurum
2. hydrogen
3. krypton
4. nitrogen
5. helium
CD 2
1. phosphorus
2. sulfur
3. iridium
4. tellurium
5. chromium




Personnel:
Roberto Paci Dalò bass clarinet, electronics
Luca Pastore tenor sax, sruti box, turntable, electronics
Alessandro Quintavalle upright bass, cello,
radio frequencies, electronics

Listen: http://www.myspace.com/revolutionaryordermovement




All titles written and produced by
Roberto Paci Dalò, Luca Pastore, Alessandro Quintavalle
Published by Alluro Ltd
Recorded and mixed at Trail Music Lab, Napoli, may 2009
Fabrizio Piccolo sound engineer
Mastered by Maurizio Giannotto at New Mastering, Milano
Produced in collaboration with Perditempo, Napoli
Design & photographies Roberto Paci Dalò

http://www.giardini.sm/projects/alluro
http://www.horus-music.com

Distribution Audioglobe

Released: March 2010
HO-201003-22