L'Arte dell'Ascolto is dedicated to releasing the best in new electronica, spoken words, soundscape & urban explorations, sound + art, noise, acoustical dramaturgy, and radio.

This label is generated by L'Arte dell'Ascolto / the Radio
& Art Festival (established in 1991)
and Radio Lada the pioneering web
art radio webcasting since 1995.

LADA FREE is the special project
with releases fully downloadable
from the Internet for free.

L'Arte dell'Ascolto is a project of
Giardini Pensili Visit the website
to know more about.

LADA FREE is s project of Giardini Pensili and Western Front Vancouver.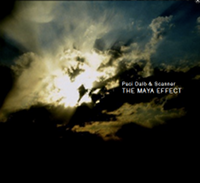 Enter the CD
Paci Dalò & Scanner
The Maya Effect

01. CFU H3C3
02. Ino
03. Yaya
04. Kiss me again
05. Nina
06. The Bubble

Total cd time - 50:00
Europe price: 15 euro (including shipping)

LADA002

Release: 13 April 2011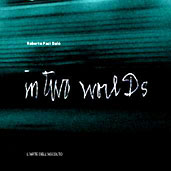 "... Dalo holds his balance on that
threshold exceptionally well..."
The Wire
"... Un lavoro molto intrigante e coinvolgente, non distante dalle operazioni di Roden e Ikeda, ai cui fan potrebbe interessare parecchio..."
Blow Up

Enter the CD
Roberto Paci Dalò
In Two Worlds
01. Elie play
02. Code
03. Files
04. Remix
05. Tallinn
CD Info:
Total cd time - 44:29
Europe price: 15 euro
LADA001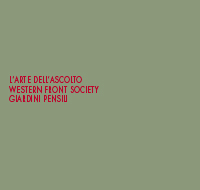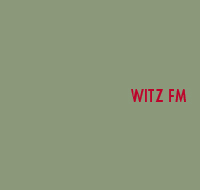 LADA FREE

WITZ FM

A collaborative audio cd with
FM (Francesca Mizzoni) and Roberto Paci Dalò

TRACK LIST / DOWNLOAD

1. uno (4:22) [6.1 MB mp3]
2. due (2:56) [4.1 MB mp3]
3. tre (6:20) [8.1 MB mp3]
4. quattro (1:39) [2.3 MB mp3]
5. cinque (1:44) [2.4 MB mp3]
6. sei (4:34) [6.4 MB mp3]


fm - analog/digital toys, self built devices
rpd - sampler, electronics

Release: February 2006
Price: Free

Please check copyright disclaimer
A coproduction Giardini Pensili & Western Front Vancouver
FM + RPD © 2005