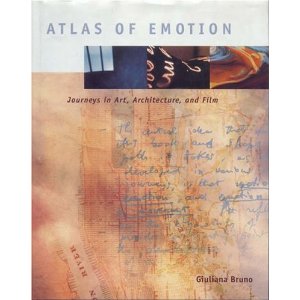 Named a 2003 Book of the Year by The Guardian [London], winner of the 2004 Kraszna-Krausz Moving Image Book Award in Culture and History (honoring "the world's best book on the moving images") and honored as an "Outstanding Academic Title" in Choice, the publication of the American Library Association.
With forays into the fields of geography, art, architecture, design, cartography, and film, Giuliana Bruno's Atlas of Emotion is a highly original endeavour to map a cultural history of the visual arts. She insists throughout on the inseparability of seeing and travelling. In so doing, she touches on the art of Gerhard Richter and Annette Messager; the filmmaking of Peter Greenaway and Michelangelo Antonioni; the architecture of cinema and its precursors. Visually luscious and daring in conception, the voyage opens new vistas and understandings at every turn.

Giuliana Bruno is Professor of Visual and Environmental Studies at Harvard University. Her work explores the intersections of film, the visual arts, and architecture.
Her seminal book Atlas of Emotion: Journeys in Art, Architecture, and Film (Verso, 2002) won the 2004 Kraszna-Krausz Book Award, a prize awarded to 'the world's best book on the moving image.' Atlas was named a 'Book of the Year 2003' in the Guardian.
Her previous book, Streetwalking on a Ruined Map (Princeton University Press, 2002), a journey through modernity and cultural memory, won the 1993 Kovács prize from the Society for Cinema and Media Studies for best book in film studies.
Her new book, Public Intimacy: Architecture and the Visual Arts, was published by MIT Press in 2007.
Her work on contemporary art includes a monograph on Jane and Louise Wilson: A Free and Anonymous Monument (BALTIC Centre for Contemporary Art, 2004), and numerous essays, published in art monographs such as Isaac Julien (Irish Museum of Modern Art, 2005), and exhibition catalogs of the Museum of Modern Art and the Solomon R. Guggenheim Museum.
She is featured in Visual Culture Studies: Interviews with Key Thinkers as one of the most influential intellectual working today in visual studies (Sage, 2008).

Giuliana Bruno's books published in Italy include:
Atlante delle emozioni. In viaggio tra arte, architettura e cinema (Bruno Mondadori, 2006)
Pubbliche Intimità: Architettura e arti visive (Bruno Mondadori, 2009)
Rovine con vista (La Tartaruga Edizioni, 1995)

Giuliana Bruno, Roberto Paci Dalò, Maria Nadotti
Naples 2008

Photo © Ambra Galassi